AUTOMATED PEST MONITORING SYSTEM
TRAPVIEW is an automated pest monitoring system that monitors all kinds of insects, which can be lured into insect traps. It works on all continents in any area covered by the GPRS or 3G network. TRAPVIEW system consists of three fully integrated, automated and easy to use tools.
Automated smart trap

The energy independent and weather resistant pheromone traps send pictures of lured pests.
Cloud-based processing

All pictures from your traps are gathered, processed and securely archived. The pests that are recognized are automatically marked.
Monitoring application

An application with powerful analytical tools allows you to efficiently monitor and successfully respond to the situation in the field.
With significantly raising accuracy and decreasing costs of pest control TRAPVIEW provides an innovative solution for farmers, advisers and researchers.
Benefits for growers

Increased accuracy of monitoring at a lower cost
Fewer field visits and more efficient pest control
Optimized pesticide application timings
Near real-time insight into a pest situation in the field
Easy data sharing with an adviser
Benefits for advisers

Increased accuracy of monitoring at a lower cost
Pest-related field trips reduced by up to 70%
Effortless pest monitoring of vast area with less resources
Near real-time insight into a pest situation in an area
Simplified administration and communication with clients
Benefits for researchers

Increased accuracy of monitoring at a lower cost
Automated and precise data gathering
Short data collection intervals and securely archived data
A great source of data to verify and develop pest-related models
Trapview STANDARD
Most widely deployed model of the trap has a similar external appearance as the conventional delta traps, therefore its pest catch efficiency is on the same level with conventional traps as well.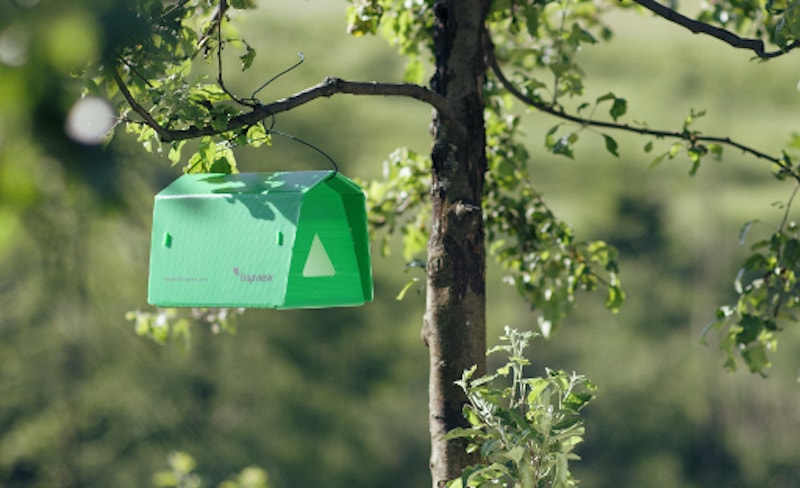 Used for monitoring
codling moths – Cydia pomonella in apples and pears

plum fruit moths – Grapholita funebrana in plums

tomato leafminers – Tuta absoluta in tomatoes

grape berry moths – Lobesia botrana and Eupoecilia ambiguella in wine grapes

oriental fruit moths – Cydia molesta in peaches

diamondback moth – Plutella Xylostella in plants from Cruciferae family / Brassica
Trapview SELF-CLEANING
Innovative Trapview SELF-CLEANING mechanism enables daily and reliable collection of pest monitoring data and significantly reduces the need for pest monitoring field visits.
A SELF-CLEANING model integrating bucket/funnel type of trap is especially suitable for larger moth species that come in high numbers, thus frequent change of sticky surface is required:
cotton bollworm – Helicoverpa armigera

silver Y moth – Autographa gamma

army worms – Spodoptera spp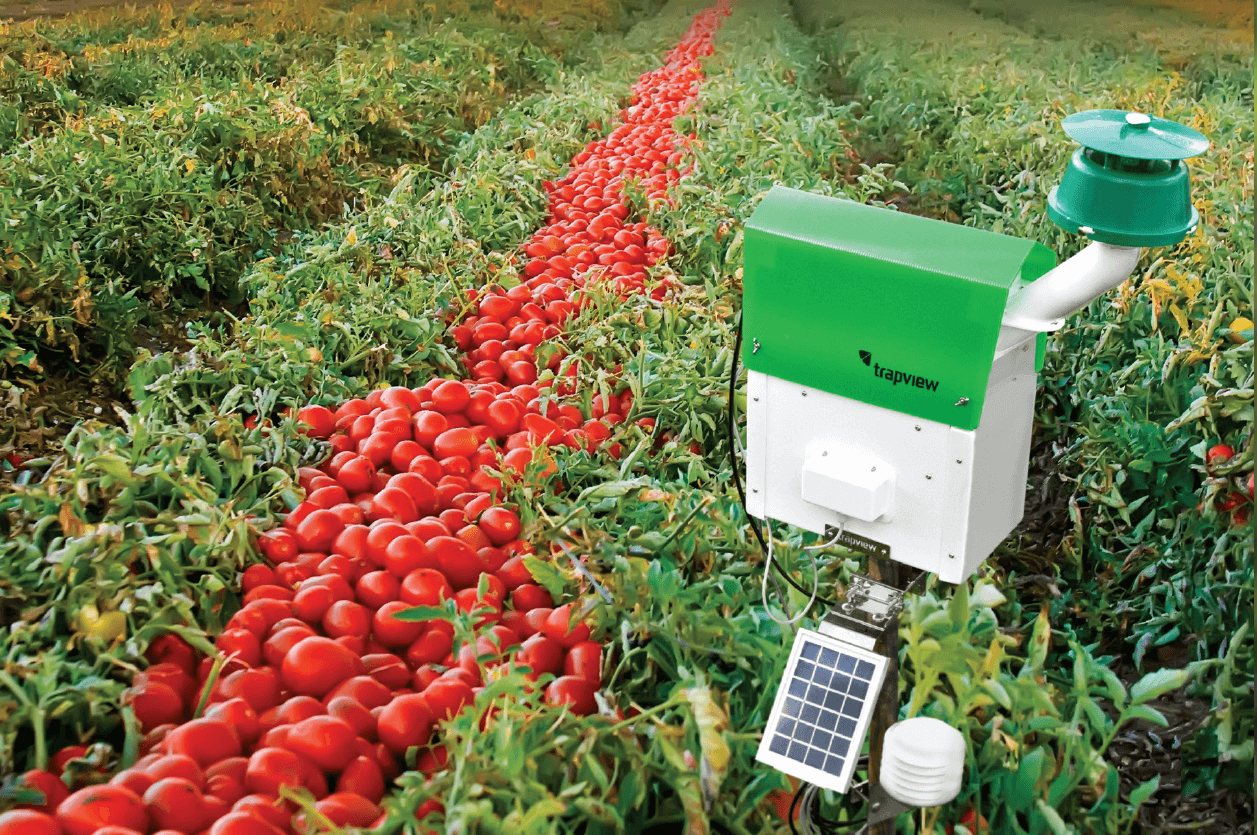 Trapview AURA
Trapview AURA uses a light lure that attracts insects by polarized UV light. A light trap is the most reliable method for monitoring of night moths, such as European corn borer (Ostrinia nubilalis), which have a poor response to chemical attractants. Trapview AURA enables a combination of light and chemical lures in the same trap so that it enables monitoring of a wide range of pests.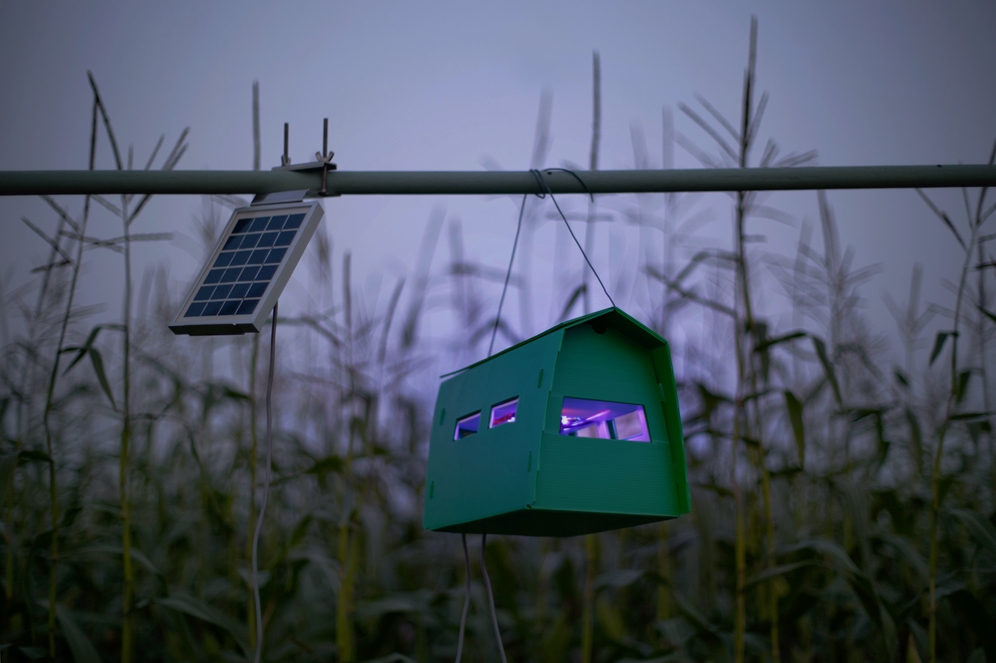 Used for monitoring
European corn borer – Ostrinia nubilalis in corn
Trapview FLY
Traps equipped with plastic housing designed for trapping flies (Diptera) more efficiently. The housing is highly modular and allows different size and shapes of entry holes. The bottom of the housing allows the use of different attractants including liquid ones. The + stands for a model with high resolution cameras for monitoring small flies like Drosophila Suzukii.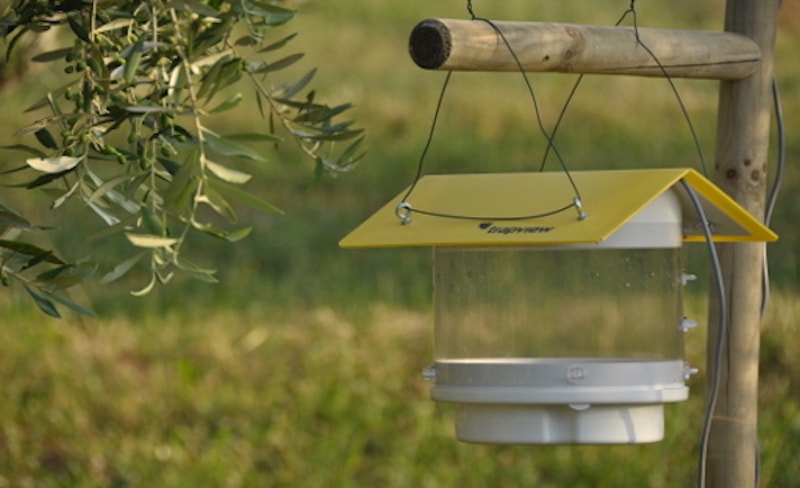 Used for monitoring
mediterranean fruit fly – Ceratitis capitata in citrus and peaches

spotted wing drosophila – Drosophila suzukii in fruits and grapes
Trapview VERTICAL
A special model of traps developed for monitoring flying insects on colour sticky plates.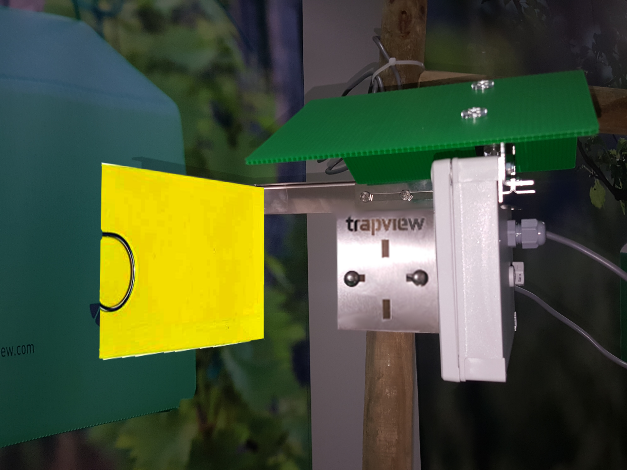 Temperature and humidity sensor
If temperature and humidity sensors are added to the trap, it is also possible to have more data about local weather conditions. Temperature degree days chart for chosen pest enables even better decision making.
External Antenna
In remote areas with a good access to mobile network is a bit of a chalenge an additional external antenna is recommended to improve reception of the mobile network signal.